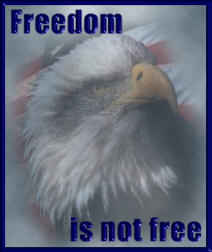 Connections

POW/MIA/KIA Web Sites | Veterans' Links | In Memeory | Odds 'N Ends

Links checked and updated December 10, 2000
Advocacy and Intelligence Index for POW-MIA
Lots of pow/mia information.
Col. Ted Guy USAF (Ret) -- former Vietnam POW
This American Hero, Hawk, has passed on, but please read what he had to say about The MIA situation in Vietnam.
The Americans Who Risked Everything by Rush H. Limbaugh, Jr. - Cape Girardeau, Missouri
Heart of Illinois Awareness items (Bracelets)
The Korean War Project
Information on Korean War POW/MIAs
Library of Congress POW/MIA Database
Index of USG documents available by mail order
LZ Memories
Includes newsletters and a listing of returned POWs.
NAM-POWs Inc. -- the organization of Vietnam Returnees
National Alliance of Families -- online newsletter and archive
No-Quarter.Org
The Vietnam Casualty Search Page
Operation Just Cause -- Adopt a POW/MIA
POW/MIA Forum -- information archive
POW/MIA Freedom Fighters - Writers First Stop - Medieval Studies
This site is a must see. Great resource.
POW/MIA INTERNET BLACKOUT DAY 2000
POW-MIA Page of SCOPE SYSTEMS. Industrial Electronics Repair
Sons and Daughters in Touch:
1-800-984-9994
The organization of children of persons KIA/POW/MIA in the Vietnam War.
U.S. POW/MIA's Who May Have Survived In Captivity
The VietNam Casualty Search Page
A Vietnam Veteran's Memorial Wall
Search for names on the wall. New, you can now add comments and photos.


1st Cavalry Division Association
3/187th, 101st Airborne, Vietnam 1967-68
17th Cavalry Regiment Heraldry
Americal Division Veterans Association
Dustoff Association
History, images, and association information. Dustoff was the term used for a helicopter medical evacuation of a wounded or ill soldier.
Federal Research Division --- POW/MIA Home Page
Heli Vets(2)
Nice site run by a group of helicopter veterans from all services who served in Vietnam . Includes chat rooms, links, museums, etc.
National Vietnam Veterans Art Museum
Images of Vietnam done by vets.
Red River Valley Fighter Pilots Association (River Rats)
Sarge's Airborne and 101st Airborne Division Military history site!
US Army Alumni Associations
Data on virtually every unit association, with detailed information on contacts, newsletters, e-mail addresses and websites.
.The US Army in the Vietnam War.
US Army Warrant Officer History Webpage
Veterans Organizations and Support Groups
Listings for many useful organizations.
(Part of the Vietnam Veteran's Home Page.)
Vietnam Dog Handlers Association (VDHA)
Information on all K-9 Corps dog handler units in Vietnam. 8000 men (231 KIA) and 4000 dogs served. Only 190 of the dogs returned to the US.
Vietnam Helicopter Crewmembers Association (VHCMA)
Vietnam Helicopter Flight Crew Network (VHFCN)
Listing of helicopter units, back issues of the association's newsletter, and a variety of other information / links.
Vietnam Helicopter Pilots Association (VHPA)
Vietnam War Internet Project Home Page
This site offers many viewpoints on various topics concerning the Indochina Wars. Complete archives of the soc.history.war.vietnam newsgroup are available, as are articles, bibliographies, personal narratives, documents, hyperlinks, and of images. Great site.
VietnamWar.net
A Portal To Information About The Vietnam War. Lots of wel organized links.
Vietnam Veterans of America (VVA)
Vietnam Veterans Home Page -- links to hundreds of sites
A Vietnam Veteran's Memorial Wall
WAE Organization Message Board


The Hunger Site Home - Donate Food for Free to Give to Feed Hungry People in the World
This is a great service...and it costs you nothing.
The Meadow Years
A Retrospective on the 60's and 70's by Gunny Fallon
Vietnam War Helicopter Crew Members by panel
Why Helicopter Pilots are Different

Please visit my other sites.
The DragonMuse Fantasy Writers Resource Realm

Click the bracelet to find out what you can do.




Main | Helpout | Links | Awards
Backus | Cramer | Cunningham | Graffe | Holguin | Magee
Okerlund | Omelia | Palen | Parsons | Rhodes